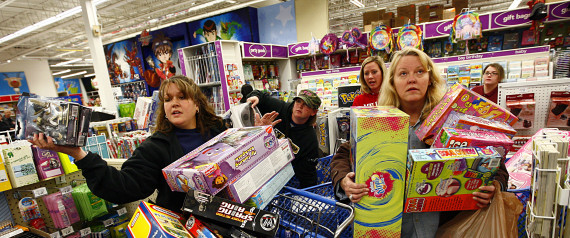 Black Friday and Cyber Monday may be new shopping traditions in Canada, but shoppers are taking to it fast.
So fast, in fact, that some 1 million Canadians will call in sick on either Black Friday or Cyber Monday in order to go shopping, according to a new survey from IPG Mediabrands.
Canadians are also planning to take a total of 4.1 million vacation days around the weekend that coincides with U.S. Thanksgiving. In all, 2.8 million people will be off work on Black Friday, and 1.3 million people will be off work on Cyber Monday, the survey estimates.
That's bad news for most employers but good news for retailers, who can expect to see $13.4 billion in sales on the two days ($6.8 billion on Black Friday and $6.6 billion on Cyber Monday).
That could actually more than offset the cost of the lost work days. A Conference Board of Canada report looking at 2012 found absenteeism costs Canada's economy about $16.6 billion, and that's for an entire year.
Nearly half — 49 per cent — of respondents said they planned to shop on either Black Friday or Cyber Monday.
"Black Friday and Cyber Monday are making Boxing Day less relevant," Chris Herlihey, vice-president of research at IPG, said in a statement. "And it may feel more like 'Slack Friday' to many employers year after year."
Seventy-five per cent of respondents in the survey agreed Boxing Day is becoming a less relevant holiday shopping event.
Among other things, the survey found 48 per cent of shoppers plan to avoid retailers who have had publicized data breaches (take note, Target and Home Depot) and more than a third of Canadians had already started some part of their holiday shopping by the end of October.
Despite a sinking loonie, cross-border shopping will continue to be a problem for Canadian retailers, the survey found, with 24 per cent of Black Friday shoppers planning to look for deals south of the border.
Canadians are expected to spend $1.6 billion at U.S. retailers on Black Friday, but Cyber Monday, with its online deals, could be the bigger haul. The survey estimates Canadians could spend up to $3.4 billion at U.S. websites that day.
"Canadian retailers must also improve their online shopping platforms or more and more money will be sucked out of the Canadian economy," said Joseph McConellogue, managing director at Reprise, in a statement.
Sourced from thehuffingtonpost.com