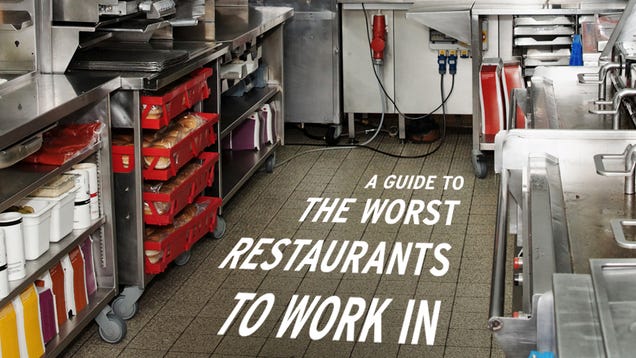 Since we're on the topic of basic fairness for the working people of America, here is a useful thing: a pro-worker group called Restaurant Opportunities Centers United has produced a handy pocket guide to many of America's most popular restaurants, to let you know exactly how badly their employees are treated. The short version, below.
The guide (referenced in this excellent Mark Bittman column yesterday) ranks restaurants on whether they pay a minimum viable wage to their tipped and non-tipped workers; whether they give paid sick leave; and how much of a chance for advancement their workers have. Here are some of the better-known chain restaurants that received "0" or "unknown" ratings in each of those categories—in other words, that did not achieve a single check mark for minimal standards of worker treatment:
The Worst Restaurants for Workers
Applebee's
Arby's
Baskin-Robbins
Bennigan's
Bob Evans
Boston Market
Buffalo Wild Wings
Burger King
California Pizza Kitchen
Captain D's
Carl's Jr.
Chart House
Checker's
Cheesecake Factory
Chili's
Chuck E. Cheese
Church's Chicken
Cold Stone Creamery
Cracker Barrel
Denny's
Domino's
Dunkin Donuts
Friendly's
Golden Corral
Hard Rock Cafe
Hooters
Houlihan's
IHOP
KFC
Legal Seafoods
Little Caesar's
Marie Callender's
McDonald's
Morton's Steakhouse
Olive Garden
Outback Steakhouse
P.F. Chang's
Panera
Papa John's
Perkins
Pizza Hut
Qiznos
Red Lobster
Ruth's Chris Steakhouse
Sbarros
Sonic
Starbucks
Steak-n-Shake
Subway
TGI Friday's
Taco Bell
Uno Chicago Grill
Waffle House
Zaxby's
Did they miss any?????? Let us know below!
Sourced from Gawker.com