A Chipotle near Pennsylvania State University shut down on Wednesday after managers reportedly quit over brutal work hours and understaffing.
A sign posted on the door to the eatery said that most employees resigned in protest of their "borderline sweatshop conditions." Below the message read: "People > profits."
"Ask our corporate offices why their employees are forced to work in borderline sweatshop conditions," the sign read. "Almost the entire management and crew have resigned."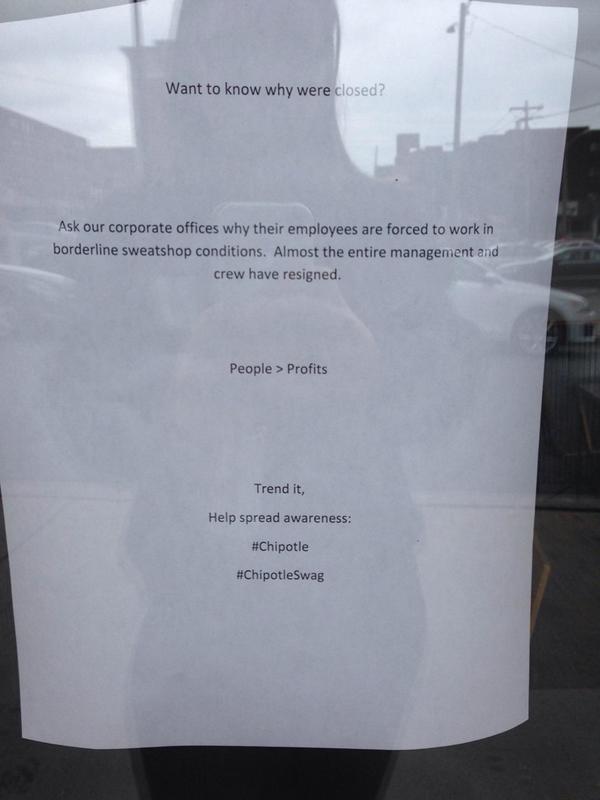 "Our Penn State restaurant was closed when a few employees quit, locking out a majority of others who are enthusiastic to return to work," Chris Arnold, a spokesman for Chipotle, told The Huffington Post in an email.
Arnold told HuffPost the store re-opened at 5 p.m. on Wednesday.
The managers who quit held the keys to open the restaurant, Arnold said. He did not immediately respond to a question about the number of workers that left, or how many remain.
A regional manager arrived early on Wednesday afternoon to observe the situation and request that the managers remove the sign from the door, according to Penn State's student newspaper the Daily Collegian.
HuffPost called the State College, Penn. location of Chipotle around 4 p.m. on Wednesday. When asked if the store had re-opened, a man who identified himself as "Eric" over the phone referred HuffPost to corporate public relations and hung up the phone.
Brian Healy, a former manager at the eatery, told the student-run news site Onward State that the restaurant was understaffed, forcing employees to work 10-12 hour shifts without breaks.
"Working conditions are heinous," he told Onward State. "I'm not trying to take down the Chipotle corporation, I just want to see people treated better."
The walkout comes just a week after fast-food workers across the country protested for higher wages. Hundreds were arrested. Chipotle pays workers higher wages than many of its corporate competitors, and it remains unclear whether the mass resignation at the Penn State location was related to the strikes.
This post has been updated to reflect that the store has re-opened.
Sourced from huffingtonpost.com