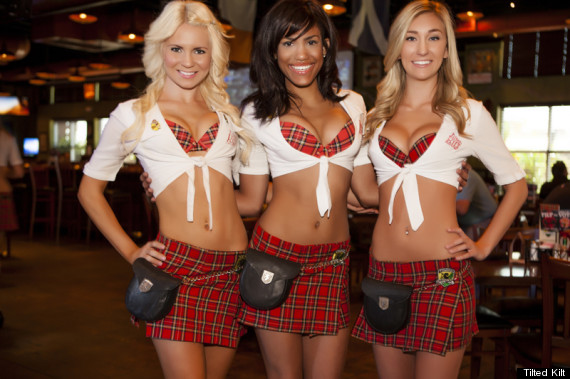 For many Americans, it's becoming less appealing to take the time to sit down to an uninspiring pasta dish, a bland hamburger or a plate of once-frozen wings at a middle-brow restaurant chain.
But serve that burger with a side of cleavage, and the crowds come pouring in.
Sales at the Tilted Kilt, Twin Peaks and Brick House, casual eateries featuring scantily clad waitresses, have grown at a double-digit pace over the last year, according to projections from Technomic, a food market research firm. At the same time, sales limped along at most big restaurant chains like Olive Garden and TGI Friday's.

Sales at "breastaurants" have thrived even while more generic sit-down chains struggle. (Data from Technomic)
The so-called "breastaurants" take inspiration from Hooters, the 30-year-old chain known for big-breasted waitresses wearing short shorts and oddly orange pantyhose. But today's cleavage chains have updated the concept with fresher-looking spaces and menus better suited to today's young people who are increasingly interested in artisanal food and craft beer.
Twin Peaks, dubbed the foodie's breastaurant, makes all of its dishes from scratch — no frozen wings. The menu, which is locally sourced, features sophisticated twists on classic bar food like venison chili, blackened fish tacos and wings with an optional topping of green chili parmesan sauce.
Of course, the menu also highlights the restaurant's "well-built sandwiches": The waitresses wear miniscule shorts and tiny plaid shirts that tie just below the chest, exposing their midriffs.
"Men are simple creatures and so you don't have to get too crazy to get them in the door," said Kristen Colby, the chain's senior director of marketing, adding that all it takes is an ice cold beer, sports on TV and beautiful girls.
"We know we're not for everybody and that's okay," she said, noting that other casual dining chains have struggled in part because they're trying to be all things to all people.
At the Titled Kilt, where "the beer never looked so good," three-quarters of the customers are men. The restaurant's waitresses wear sexy Celtic-inspired uniforms of short plaid skirts and skimpy white shirts. Company founder Mark DiMartino dreamed up the costumes, which are influenced by the Catholic schoolgirl look, according to Ron Lynch, the company's president. "All of us guys had a crush on a cute girl in school and obviously he had crushes on the cute girls with plaid skirts," Lynch said of DiMartino.
Lynch said he "shudders" when he hears the chain lumped into the "breastaurant" category because he finds the term degrading to women. He sees his chain, which started in Las Vegas, channelling the original TGI Friday's, with its "outrageous" staff, uniforms covered in pins and the "flair" made infamous by the 1999 movie "Office Space."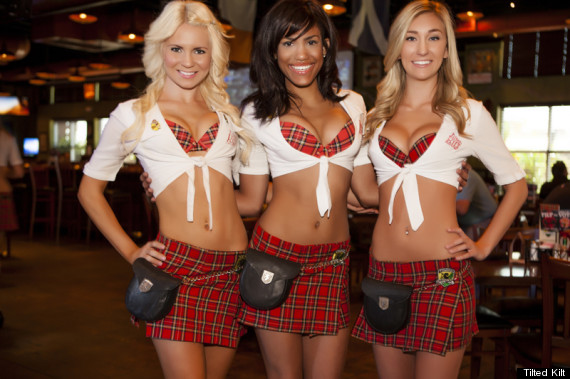 It's no secret, of course, that sex sells. It also comes with a big helping of controversy and criticism.
The restaurants create an environment that exacerbates an already prevalent problem, said Liz Watson, the director of workplace justice for women at the National Women's Law Center. The restaurant industry is notoriously rife with sexual harassment — nearly 80 percent of female servers say they've been harassed on the job, according to a report released last year by Restaurant Opportunities United, a restaurant worker advocacy group.
It's especially a problem for women who work for tips, Watson said.
"The fact that womens' wages are coming in from customers is already making them vulnerable to harassment," she said. "It's only being compounded by these types of restaurants."
Some workers see it differently. Taylor Fogerty, a former Hooters waitress, has blogged about how she doesn't see her former job at Hooters as anti-feminist. Instead, she said she was just "using the world of female objectification" to her advantage.
"Obviously there were some creeps, but I think you get creeps at any waiting job you go to," she said in an interview iwth The Huffington Post, noting that the tips are usually better at a place like Hooters because servers are encouraged to spend time with customers. "You have the girls that you work with, it almost feels like a sorority. You're all together sharing this experience."
Bikinis Sports Bar & Grill is the self-proclaimed "only breastaurant in America." (The chain has trademarked the term, though it is used in the industry to describe the category of restaurants more generally.) Doug Guller, the chain's CEO, came under fire last month after the TV show "Undercover Boss" showed him axing a bartender who wore a T-shirt instead of a bikini and offering to pay for another employee's breast augmentation surgery.
But a little attention was probably good for business. The chain has seen an uptick in sales since the episode aired, owing largely to the exposure, Guller told HuffPost. He believes that some of the criticism he received was unfair, noting that it wasn't just a waitress' refusal to wear a bikini that got her fired — she was also over-serving alcohol to a customer. Regarding the other incident, he says it was the waitress, not him, who first brought up the possibility of getting a breast augmentation.
The headlines gave the wrong impression that "I just hand out free boobs like water," he said. Guller said his chain takes a more direct approach than others, embracing the "breastaurant" moniker to lure its target customers, men between the ages of 25 and 55.
"We're just a little bit more straightforward," he said.
Restaurant chains with modestly clad, co-ed servers have been struggling since the Great Recession began. Darden, the parent company of Olive Garden, has been throwing everything but the pasta at the wall to try and turn things around. Applebee's and TGI Friday's have tried to lure diners in with loyalty programs and free food to turn around sluggish sales.
Hooters, the grandmother of breastaurants, also has faced difficulties in recent years. According to Darren Tristano, an executive vice president at Technomic, the chain was distracted from its core business by fluctuating ownership and a focus on things like international expansion and a now-defunct affiliated airline. But Hooters is now revamping many of its restaurants and has had a stable management team in place for three years, which has helped the chain outperform the restaurant industry overall.
Hooters' newer competitors are doing even better, thanks in large part to the struggles of other casual dining chains. As restaurants like Bennigan's and Ruby Tuesday abandoned their locations during the recession, Tilted Kilt, Twin Peaks and others snapped them up, revamped the spaces and opened sports bar-themed eateries with pretty servers, according to Tristano.
"We saw the millennial consumer who was growing up going to these restaurants because they had cold beer, good food," said Tristano. "And the price points, like the servers, were very attractive."
Sourced from huffingtonpost.com
Related articles