Flexible work patterns for staff can damage mental health, study finds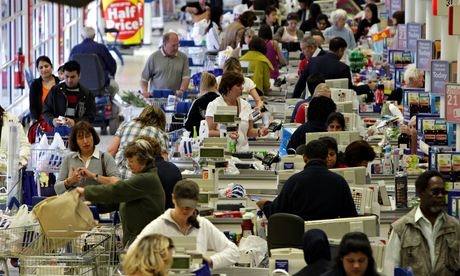 Supermarket workers' mental health can suffer from incompetent scheduling of their hours. Photograph: Oli Scarff/Getty Images
The super-flexible working conditions demanded by one of the UK's largest supermarket chains are damaging the mental health of most of its employees, according to a new report from Cambridge University.
The report has been submitted to the government's current review of zero-hours contracts being carried out at the Department for Business, Innovation and Skills (BIS). The authors say that in the light of their findings, the scope of the review should be widened to include all flexible working, arguing that employees should have the right to have a say in the scheduling of their hours.
The research, by Alex Wood and Brendan Burchell from the department of sociology at Cambridge, was based on a year of shop-floor observation, as well as interviews with supermarket workers and union officials. A parallel study at an American supermarket giant by the same team produced similar findings.
Burchell said they had chosen not to name the supermarket because similar practices are now widespread across all the major chains. "This work has really captured something going on at the sharp end and the findings are extreme and very stark. It's clear that zero-hours contracts – which is the remit of the BIS review – are the tip of the iceberg, just one small manifestation of this much wider problem in our workplaces," he explained.
Extreme part-time contracts, key-time contracts (which offer workers a very small number of guaranteed hours) and frequent labour matching – where managers are expected to arrange and rearrange shifts to meet predicted shopping demand at different times – are all described as a type of job insecurity and source of stress.
"Workplace flexibility is thought of as helping employees, but it has become completely subverted across much of the service sector to suit the employer – and huge numbers of workers are suffering as a consequence," said Burchell.
"So-called 'flexi-contracts', whether that's zero, eight or 10 hours – none of which can provide a living – allow low-level management unaccountable power to dictate workers' hours and consequent income to a damaging extent that is open to incompetence and abuse."
Managers are under such pressure that the welfare of their workers simply does not enter the equation, said Wood. "It is the invidious way that vulnerable people at the low end of the labour market are forced to live their lives that requires scrutiny," he said. "People and their families are suffering enormous levels of anxiety, and even mental illness, because of what is fast becoming common practice. The business pressures on companies are such that with only the very weakest type of government legislation to protect workers, and with plenty of people out there to replace the existing workforce, there's very little reason for them to do anything about it.
"High unemployment and tough economic times, combined with ever-increasing flexible working practices that favour big business, is creating a culture of servitude, trapping people in vicious cycles of instability, stress and a struggle to make ends meet. It's affecting psychological well-being to an extent that no one is grasping."
One British worker interviewed for the study said: "I've got two kids and a mortgage and I'm going to be out of a job because I can't do these hours." Another said: "They put a lot of stress on people … I used to be in tears."
Even informal employee input into work schedules can help to significantly reduce the negative consequences of unpredictable working hours, Burchell said. "Much of the misery caused is probably through incompetent scheduling and management not realising the way they are controlling workers' lives. If employees have a right to request more predictable hours enshrined in legislation that the management would have to justify refusing, it would at least help redress the balance slightly," he said.
Sourced from thegaurdian.com