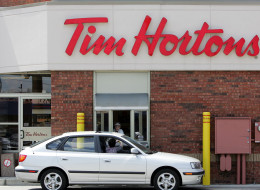 When life gives you onions, throw a snake at it — just don't do it in a Tim Hortons coffee shop.
Police say that's exactly what a suspect in Saskatoon, Canada did Monday morning,according to The Star Phoenix. The enraged customer reportedly reached into his buddy's pocket, pulled out a garter snake and threw it at a Tim Hortons employee because the onions on his breakfast sandwich weren't diced.
"I've never heard of a snake being thrown at an employee by a customer … It was definitely a little chaotic," Saskatoon Police Spokeswoman Alyson Edwards told the paper.
The staff told police that the two male suspects were arguing with employees about their breakfast order at 7:30 a.m. The argument reportedly got heated before the snake was thrown.
Police quickly determined that the garter snake — now named Outlaw — wasn't poisonous, and found it a new home. The two suspects, both 20, face charges of mischief and causing a disturbance.
It's unclear why the unidentified men would use a snake as a weapon, but we wonder if they saw the absolute letdown that was Discovery's "Eaten Alive," in which a man was in fact not eaten alive by an anaconda.
Deadspin notes that they could have done a lot better job if they wanted to spook employees:
Sourced from Huffingtonpost.com