Eccentric Multimillionaire Urinated On Candy At CVS
A New York multimillionaire is guilty of dropping his pants and peeing on a candy aisle in a CVS pharmacy.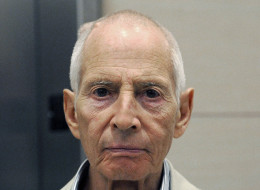 This isn't 71-year-old Robert Durst's first bizarre accusation, or his most shocking. Durst, who comes from a line of wealthy family members who own real estate in Manhattan, pleaded no contest on Tuesday to a charge of criminal mischief afterurinating on candy at a Houston, Texas pharmacy, Click2Houston reported.
The July incident caused about $100 worth of wasted candy. More from the New York Post:
"He picked up his prescription, and he then exposes himself and pees all over the cash register and candy at the register and then walks out and walks down the street," Houston police spokeswoman Jodi Silva told The Post.

"He wasn't arguing with anybody and he didn't seem agitated," Silva said, adding she did not know what the prescription was for. "He just peed on the candy. Skittles, I think."
The crime is tame in comparison to other accusations that have hung over his head throughout the years. In 1982, Durst was a suspect in the disappearance of his first wife, Kathie. Durst waited several days before reporting her missing, and friends of the woman said he was physically abusive, according to KHOU.
In 2000, Durst was a suspect in the murder of his then-friend, Susan Berman, who was found shot in the back of the head.
In 2003, Durst successfully claimed self-defense in the killing of 71-year-old Morris Black. The millionaire admitted to killing the man, chopping his body into pieces, beheading the man, and dumping the remains into Galveston Bay in Texas. The killing prompted a 45-day manhunt before police found the suspect in a Pennsylvania supermarket, attempting to steal just a single Band-Aid and a chicken sandwich, according to the New York Times.
In the Black case, Durst was acquitted of murder by a jury, but pleaded guilty to two counts of bond jumping and evidence tampering, landing him 5 years in prison.
The New York Times reports that HBO is in plans to film a documentary about Durst.
The real estate mogul was fined $500 for peeing on the candy.
Sourced from huffingtonpost.com