Target Now Sells Fifty Shades Cock Rings Next to Kids Toothbrushes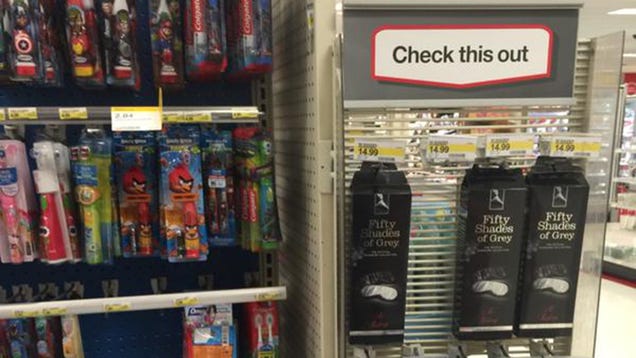 Target knows you're a busy parent on the go, so when it comes to shopping, you don't want to waste your time going from aisle to aisle to collect your kid's toothbrushes, mouthwash and Fifty Shades of Grey marital aids. That's why they put all of your needs into one place. They're always thinking of you.
This picture, snapped by a reader in Tulsa, Oklahoma, is probably just a mistake, but also kind of genius. If your kids are using cute toothbrushes (useless for adults, by the way—I bought a singing Little Mermaid one and it did nothing for me) they probably don't know what mommy and daddy (or any combination of parents) will be using the whips, chains and blindfolds for.
 .
@Target
think you might want to move the vibrating cock rings a bit further from the children's tooth brushes
Of course, if you don't let them know that those special lotions and vibrating rings are for special parent time only, they might do what one of my friend's little brothers did once. He took us to the bathroom, where he showed us the funniest thing that a three-year-old could find: a giant double-ended dildo. Fun for the entire family, but mostly for the adults.
The best part, of course, is that according to our tipster, there's a huge sign screaming "check this out" like no one's going to notice this display first thing. I would. I would be there picking shit over and cackling loudly in a heartbeat. Did you learn nothing from Play-Doh, Target?
My only real issue? $15 for a branded blindfold? Don't you think that's putting your guests into bondage that's more financial than sexual? I'll give you $4.99 and that's my last offer.
Sourced from jezebel.com